Feeling confident in your appearance is a journey, but confidence is the key to feeling fulfilled in life. Why is that? Without self-confidence you cannot decide that you are worthy of the life you yearn for. You can't make steps to achieve that life, and you can't inspire others to treat you with the dignity you deserve. This is the story of a woman who is on that journey, and also a close friend. I'm using her as an example because I know her story well and I'm impressed with her. Also because she'll let me.
Being shy isn't a character flaw. Some people are perfectly happy having a quiet, simple life, but to assume that is all a person is or wants is a narrow way to look at the human experience. We are complex and that can mean that you can be equally happy reading a book as you are to have conversations with adoring strangers. Context is key.
Erica (not her real name) has always been shy. Some of that shyness is because she is naturally introverted, and the other part of her shyness is because she wasn't comfortable or secure in her image. Despite the fact that she has always been beautiful, no matter what a person looks like on the outside, we steal our joy by comparing ourselves to people that are also beautiful but in totally different ways. There is no one type of beauty. Beauty is all around us in the world, and it comes in every shape, size, and color you can think of. The hard part is to decide that there is something beautiful about you... and then enhance that. 
So how do you build confidence in a world that seems to conspire against that goal? How do you identify what is beautiful? You get to know yourself. Then you can embrace the full experience of being you. I asked Erica some questions about the difference of who she was before pursuing her monthly Palette Pioneer and who she is now. Here were her replies along with some photos for assistance. 
When you get dressed now vs before you found your best colors, do you think there is a difference in your mindset? - Elea
Oh for sure. I know the reason why some of the clothes that I am drawn to and feel amazing in work for me. They are in my colors so they make my skin glow. While the clothes not in my colors make me feel washed out and drab. I don't feel as much that I don't look good in this, it's that the outfit isn't right for me since it's not my colors or accentuating my body the right way. - Erica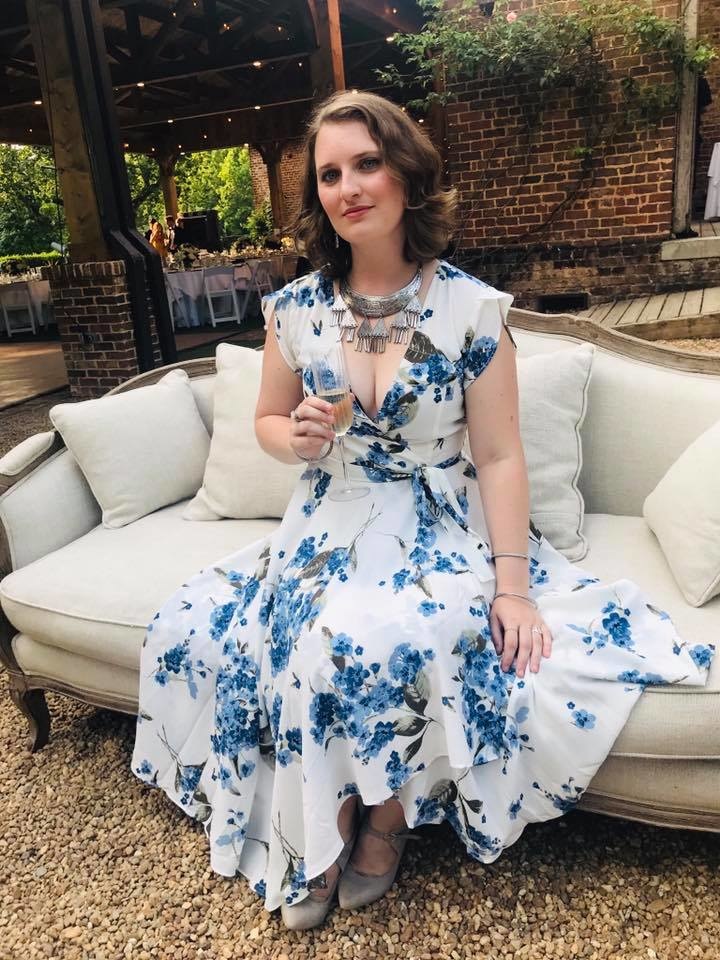 Erica in her correct colors and makeup above. Even in just a standard cell phone shot her skin has a vibrancy to it. Her lips are defined to enhance her expressions. Her hair, now her natural color, also gives her face a glow. You don't necessarily need your natural hair color for this to be true, but I'm pointing this out as help for the comparison shot. She looks youthful and gorgeous. Old hollywood in the contemporary era. Best of all she dresses to impress and be seen. She feels more comfortable with the attention. 
The below image has Erica in the center with Blake and I. This was many years ago before the photo above (before ebhues was a thing). You can see all 3 of us relied on black since it was easy for us. Both Blake and Erica have dyed their hair in tones that aren't their best. Even though we are all younger in this photo we look harsh and older than we do now wearing our correct colors. Erica's wardrobe is minimalistic and not eye catching. She is blending in with the background, uncomfortable with being the center of attention.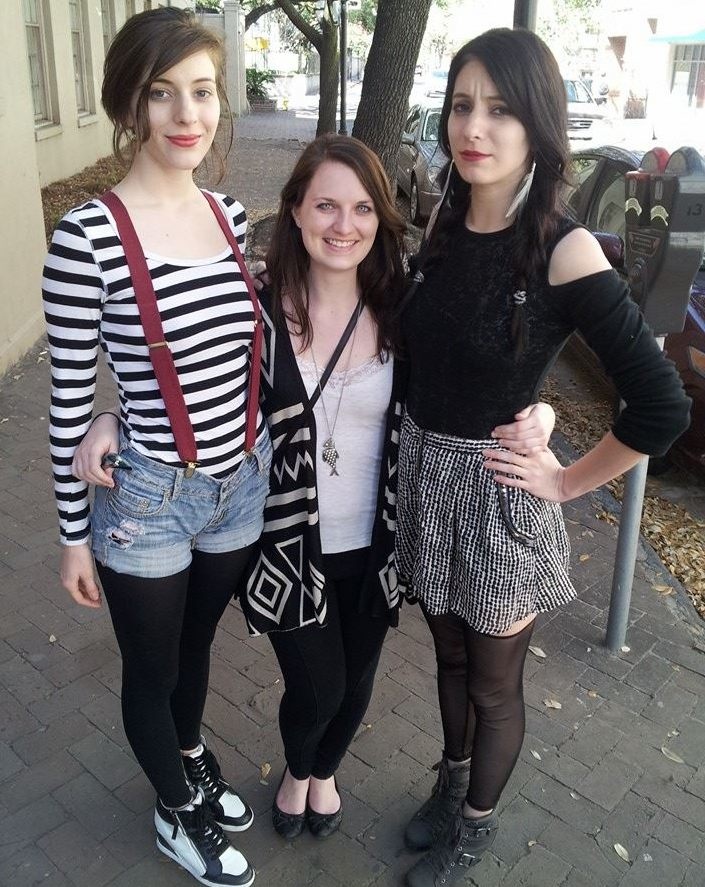 You used to be super shy, but now you don't seem as shy anymore. Is that due to feeling more comfortable in life / more certain of who you are. Or some other reason? - Elea
I asked this question because when Erica and I first became great friends her style was oversized sweaters with little thought in her dressing. Now she has those days, but when it comes to group hangs, she'll turn up looking glamorous and captivating. She looks effortlessly beautiful...
I feel more comfortable, less insecure, and have good friends who support me and validate me. Going to elea blake and being told how gorgeous I am all the time and having makeup that's custom made just for me makes me feel special. - Erica
In the below image you can see Erica standing out from a crowd in a bold power color. She isn't afraid to embrace her playful side. She can show up for an event without trying to blend in, and she stands out beautifully.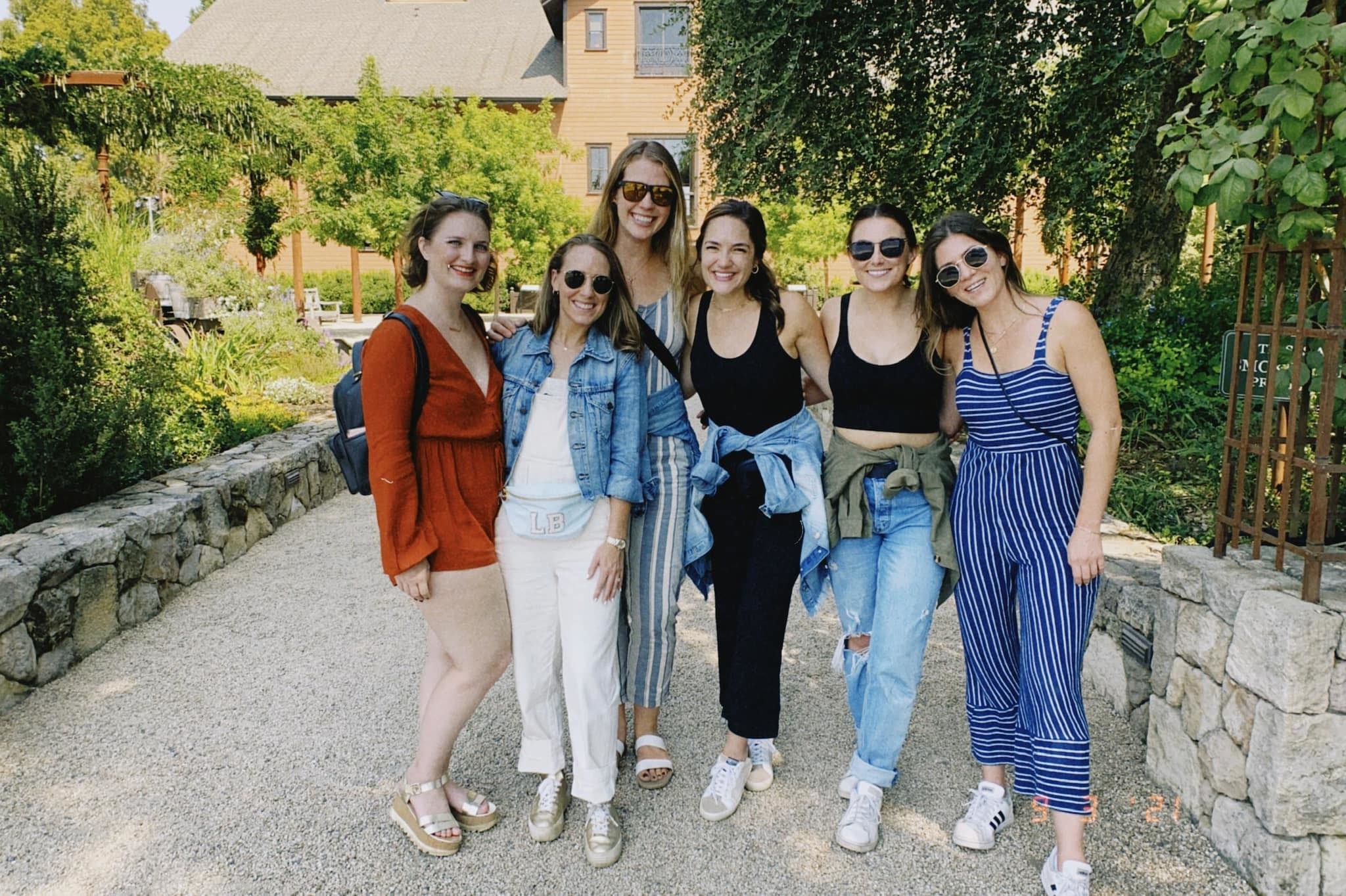 None of us are ever done with building self-confidence and caring for ourselves. It's a continuous process and Erica is still on this journey. The difference between her and others is that she has made the decision to go on that journey. She is honest with who she is and because of her honesty has friends who adore her (like me). She knows her energy, power, strength, life, and balance. She has 5 other colors to see where her intentions fall, but she's doing the emotional work. At elea blake, we help her align her intentions through ebhues, but only she can decide to put ebhues to work for her. Otherwise she just has amazing colors that enhance her spirit and appearance without the will to believe in herself. If you need someone to help you believe in yourself we're here for you, but we hope that we can take this journey together because only you can take the first step. 
Below: Erica and I (Elea) posing with Erica's rescue dog, Renegade. We live in color these days, even though black wardrobe items will slip in sometimes. Living in color is invigorating. It helps inspire you and others. Once you do so, you'll have a hard time just wearing all neutrals ever again. 
Learn more about how color is crucial when it comes to reinventing yourself.