When you are feeling like you are in a rut, feeling frumpy, not happy with your image, it is tempting to feel like you need to change your entire wardrobe… but do you really? Don't donate those clothes just yet. Let's think things through.
First off, this SHOULD go without saying, but everyone can and should feel inspired to embrace their beauty no matter what size, shape, or age they are. You need to find something you love about yourself (even if it is just your personality) before you start reinventing yourself. Why is that? Isn't that what your stylist will do? I mean yes, they will help you, but if you aren't ready to receive their message, then you aren't going to rock the style they give you. Worse yet, you may end up in clothes that are totally not you.
So moving on because we aren't saying you need to be free of insecurities and a well of confidence, but you need to believe there is something beautiful about you. The approach that ebhues takes to that is by helping you feel inspired through color.
The world around us is so colorful, but when it comes to our wardrobes... they tend to have a lot of the same old, same old. Many think you need to do basics in black, beige, white, or tans (not really neutral) and that is totally fine. However, those decisions alone are never going to help you embrace the full experience of being you.
Break up the black and neutrals by going bold and exploring who you are. Everyone has color to their personality and that is why we believe that when it comes to reimagining your image, color should come first.
same person, different styles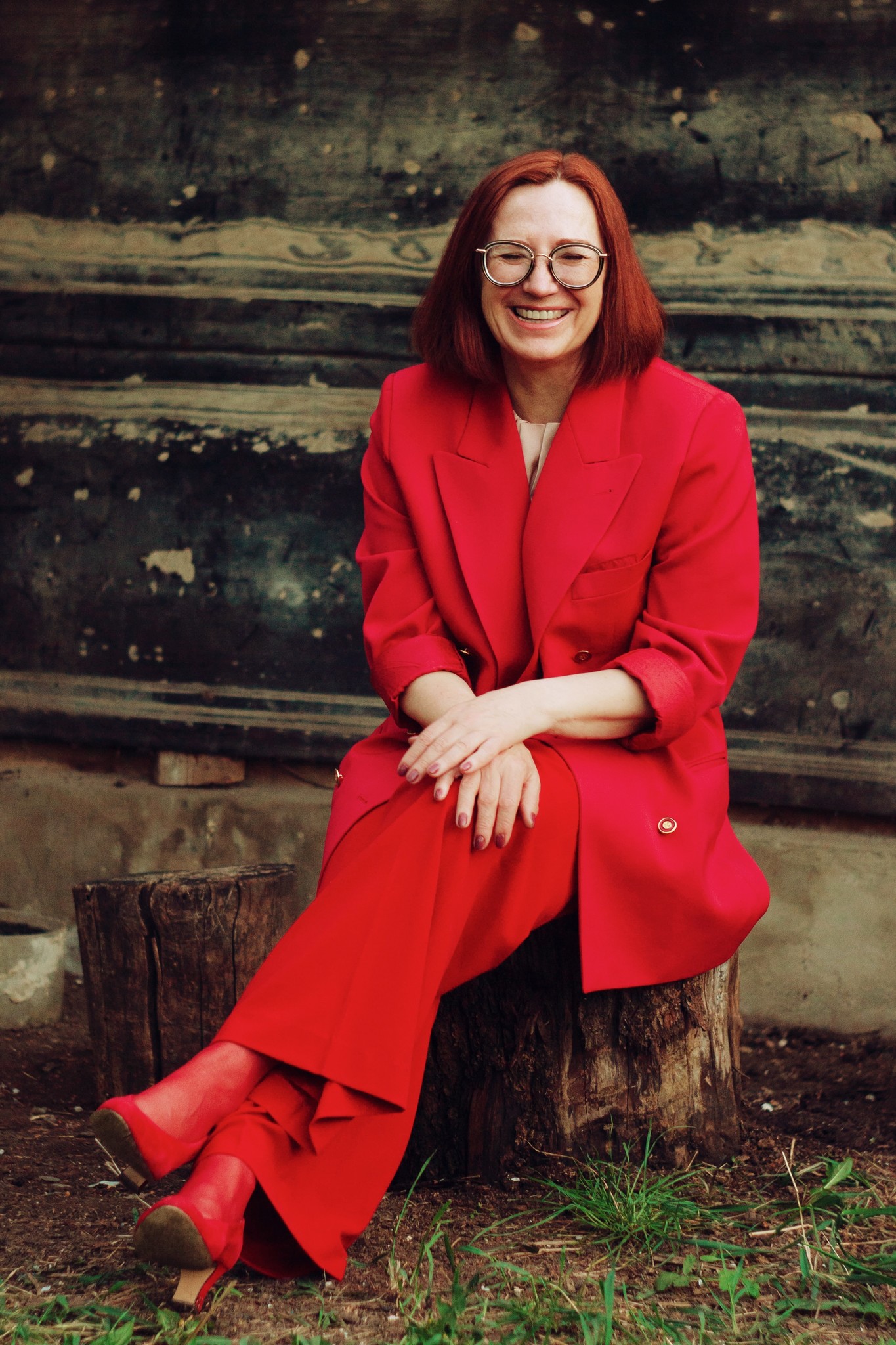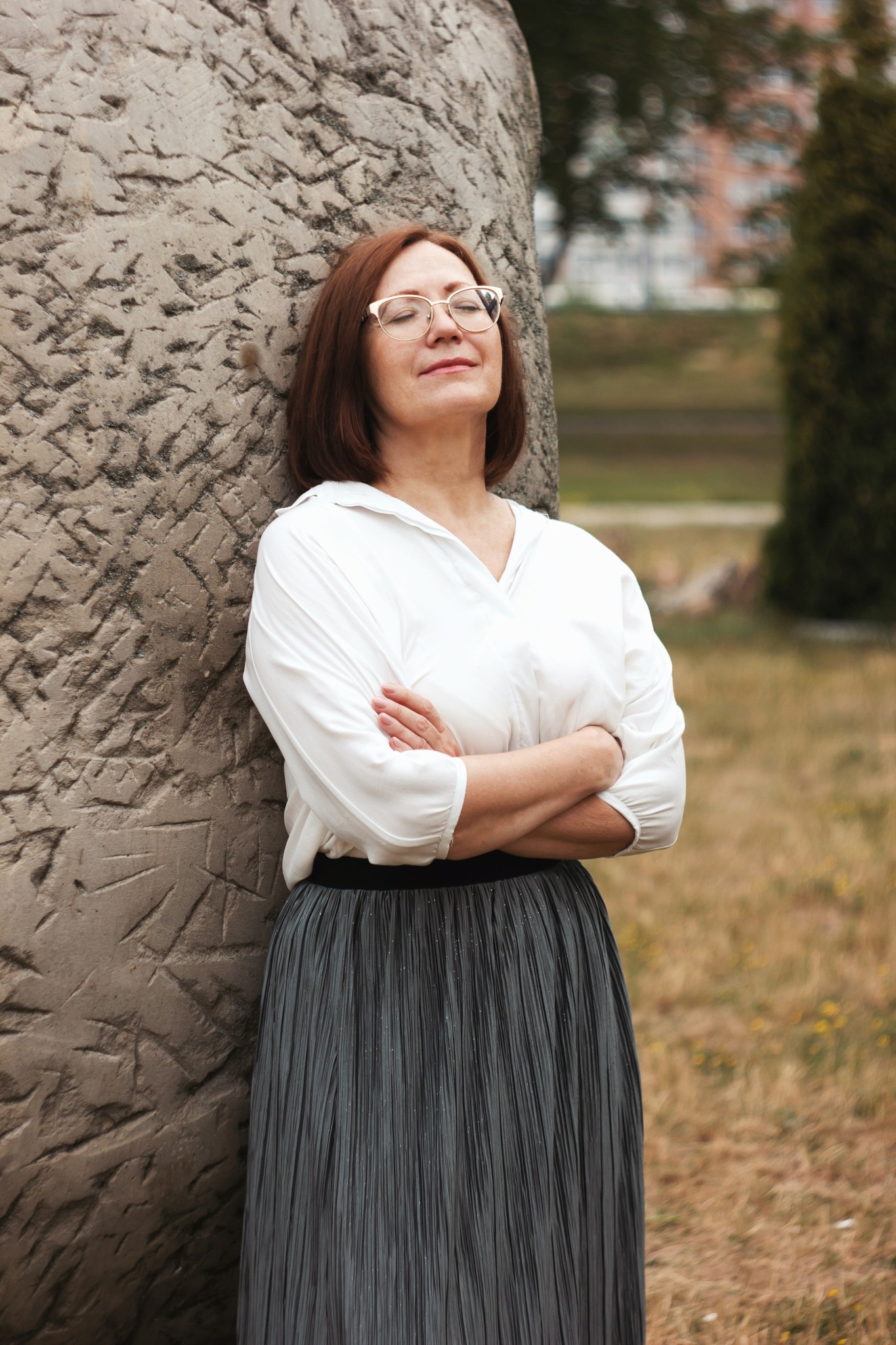 So how do you totally reinvent your image? What colors should you wear? Where does your personality and style fit in? Let's explore!
Orange (tan, brown, beige, turmeric, etc)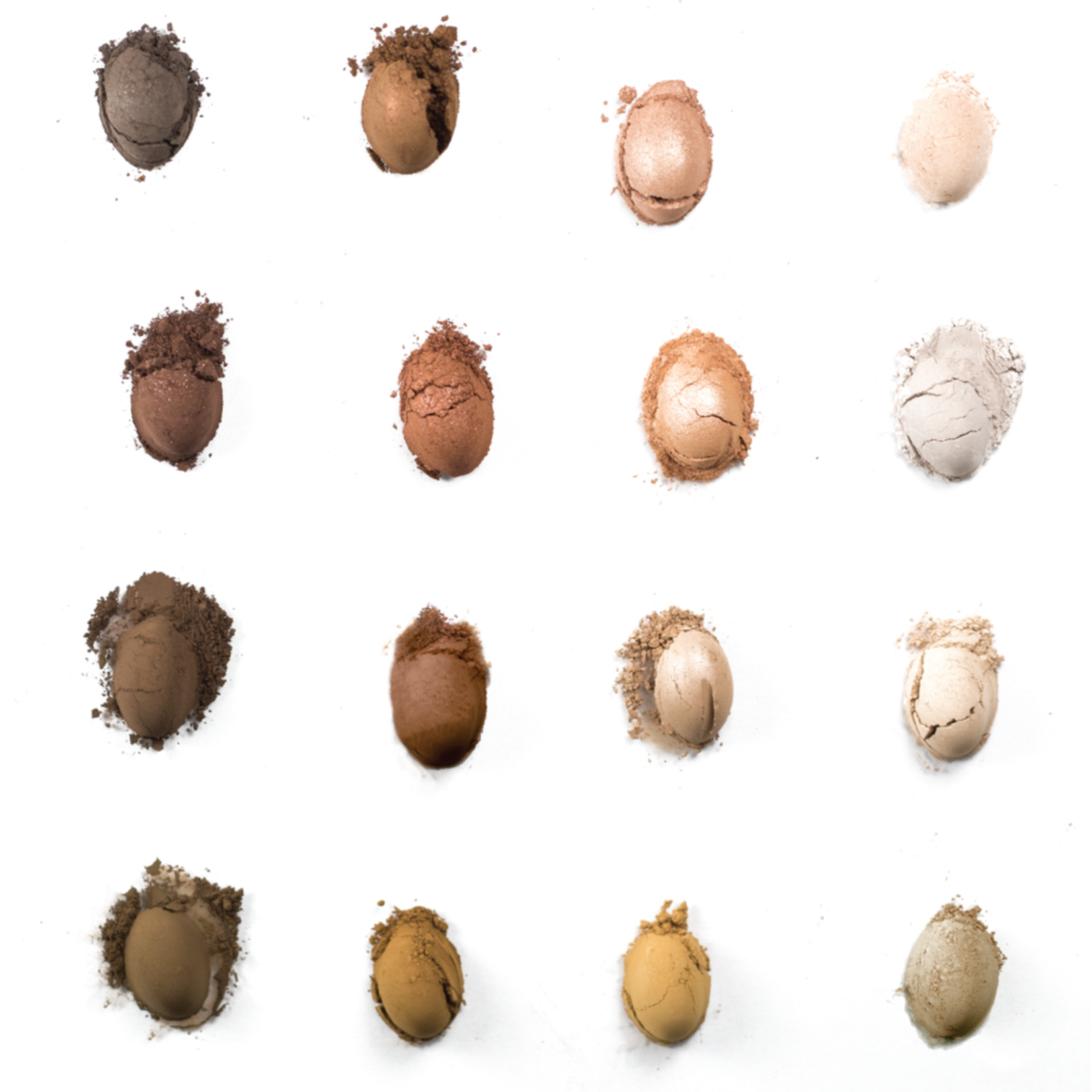 Orange is the color of strength. When you combine Red (power) and Yellow (Energy) you get a force of nature. These colors are often considered neutrals but they totally aren't. You can absolutely be wearing bland, incorrect undertones that can make you appear old and sick. That isn't right. The perfect undertone orange will give your face a lift and will inspire you to conquer the day.
We recommend starting with this color because it is literally everywhere. You wear it to work, you wear the saturated versions for play, you have it in your home, and you have it on your feet. You even purchase versions for 'nude' underwear. This is a timeless color and when you shop color first, the thing that comes next is fit, right?
FIT
So how do you find the right fit? Ask yourself…. Will I want to wear this regularly for the intended purpose?
For example, let's say you buy a jacket. Is the jacket for warmth? So the jacket is for warmth… is it actually warm? How often will you wear this level of warm jacket? A jacket in Florida isn't the same as a jacket in NYC for example. If the answer is "not often" you'll want to explore more classic cuts. Why more classic cuts and how do you decide if that fits you? Because if you aren't going to wear something very much, it means it won't get worn down very quickly. This means you'll have it for longer. It should exist outside of trends and should be very functional. Of course, when you know your right colors, you automatically exist in a more timeless space.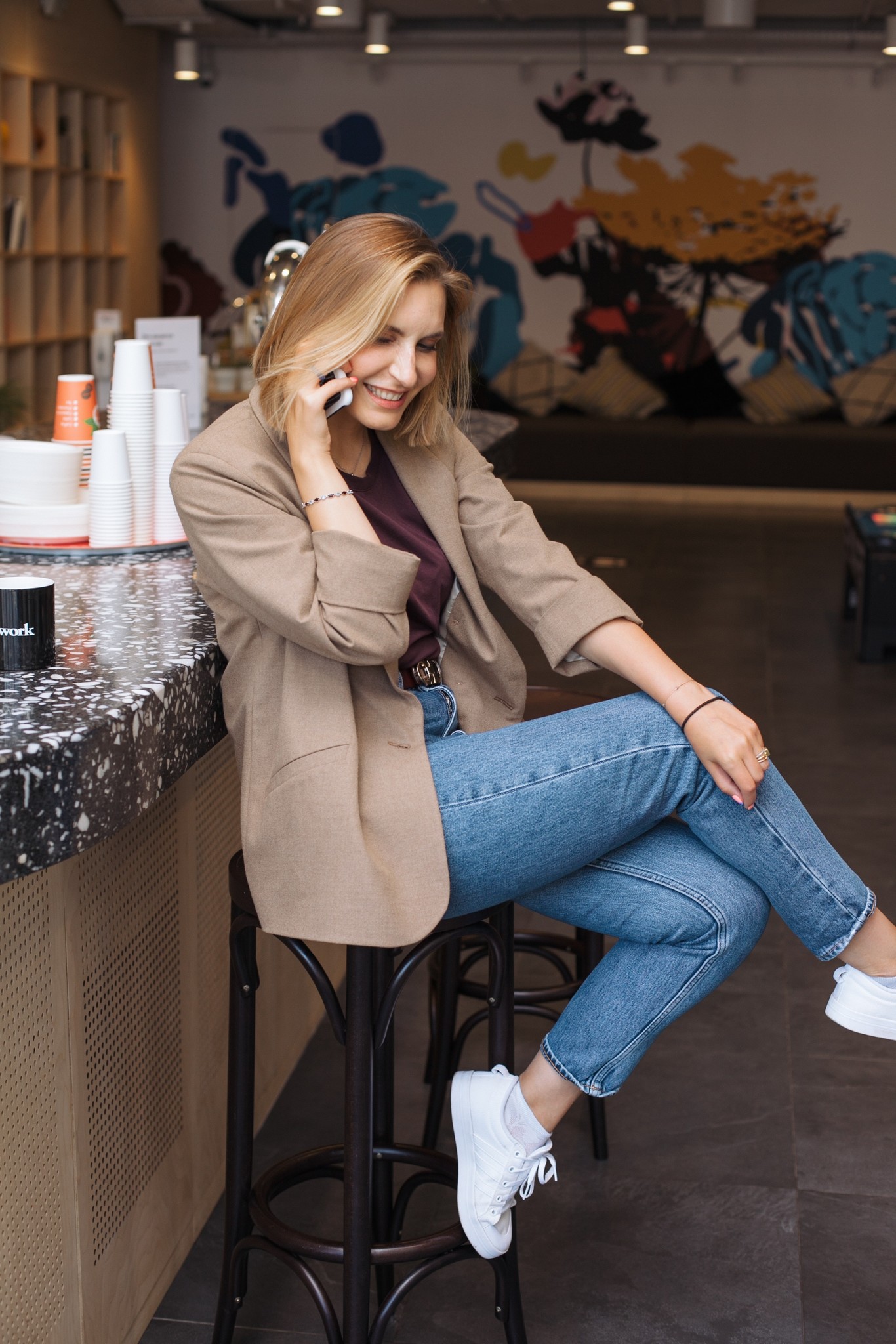 In order to shop for your body shape I recommend doing the following…
"What do I love about my body." You must name one thing. It could be your full hips, your long legs, your generous bosom, your nice butt, the way your arms look, how lovely your hands are, your cute nose, your cute lips, your beautiful hair, how adorable and short you are etc.
The answer will always be different depending on who you are. We try to encourage a positive approach when it comes to reinventing your image.
Because highlighting is always sexier than censoring. Think of a page, when a page is highlighted you immediately look at those alluring words. When a page has words that are blacked out you can only wonder what was there and feel a little frustrated.
If it helps, and this isn't an approach we totally support but can be useful for some; What do other people love about you? Maybe what they love about you isn't something you love about yourself? This is where your self-work happens. Treat yourself like you would your best friend. Be a best friend to yourself.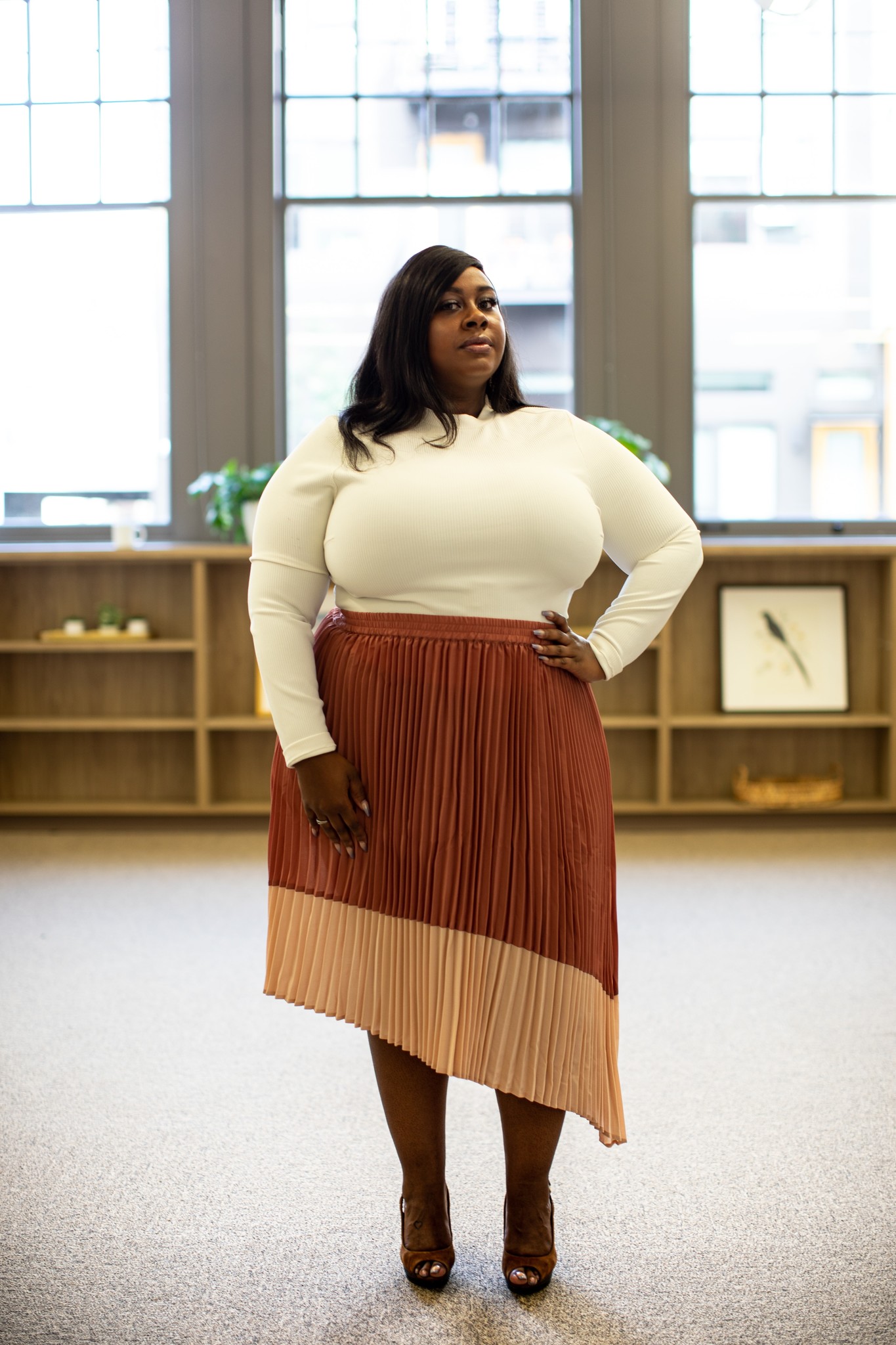 So you know what to highlight now what? Let's say the best thing about you is your face and neck. When you are choosing a jacket you want to make sure you are enhancing that thing about yourself. Choose a neckline that frames your neck in a way that you personally find alluring. This is what stylists do. They identify what are your best features and then put clothes on you that highlight how sexy those features are. Next, you need to identify how you feel in this jacket. For me, I want to feel like I can move confidently, want my fabric to weather well in the chill, and I want a cut that doesn't make me look too bulky since the thing I like about myself is that I have a sleek athleticism to me. This is not going to be your look if you are say more like my sister and want to look like an empress who is cozying in her faux furs on her stroll through the countryside. My sister and I are very similar due to being identical twins, but because our personalities and favorite things about ourselves are different we dress very differently.
So to summarize:
Color
Cut (What do I love about myself)
Comfort
Character
When you shop and when you evaluate your clothing in your closet these are the questions you ask yourself. Do I feel like myself in this? And if not WHY?!?!
Going back to color...
What are the next best colors to make sure exist in your closet?
Red : Power
Blue : Trust
Red can be bold and rich, or it can be a soft pink or coral. It is always a little sexy though. It denotes confidence and grace. It is timeless and alluring. You wear red to be noticed and when you are reinventing your wardrobe red needs to be in it. Even some "neutrals" can be very soft, neutralized versions of red.
Blue is the color for business. You wear blue when you want to relax others. There is nothing uncomfortable about blue. It is the most popular blanket color for a reason. Blue jeans range from this color group to indigo.
Everyone can wear all the above colors as long as they are wearing the right undertones for themselves. Even though I have only listed 3 (or 4 if you count indigo) color groups, there are SO many different colors that exist in these spaces.
Here are the other spaces:
Yellow : Energy
Indigo : Intuition
Lime/Chatruese : Determination
Teal : Balance
Magenta : Ambition
Purple : Creativity
Green : Life
Red : Power
Blue : Trust
Orange : Strength
You'll notice that we attribute different color groups to different emotions. That is because we believe that color can literally change how you feel. There's a reason we don't usually paint bedrooms yellow. Why do we not utilize this more strategically for how we dress? Why don't we wear more yellow in cold, oppressive winter, or more indigo in hot hot summers?
We help you get started on reinventing your image by helping you find the appropriate undertones in each of these color groups. You can then use them yourself, or give them to a stylist to help you fully embody those parts of yourself. To be human is to have the privilege of feeling complex emotions. It is also the opportunity to control how others see us, but in order to do that, we have to see ourselves that way too. That's what we want to help you do. We help you discover who you are, so that you can be your best self. We highlight your emotions and enliven your world. Who knows, along the way you may fall in love with things in your closet you neglected. We see it all the time! 
To discover your best colors for life you can either DIY at home or give us a visit and let us work with you on your journey.
We want to make the world a more beautiful place, one person at a time. You can learn more about ebhues here.