I sink inside when someone says to me they are too old, too curvy, too whatever to be stylish. Good Golly, some of my inspirations are older than me! I don't think there is anything more important than feeling good about yourself, and I believe that looking good is part of that.
Personal style is timeless - I am so ecstatic to be living in an era that wiser women are being considered Fashion Icons publicly. My inspiration was my Grandmother aka Nanny, 1914-2011. She stayed fashionable her entire life. We use different words to describe someone that is 'fashionable', but they always imply inspiration. As an artist I love inspiration, but there's a point where inspiration becomes plagiarism. I don't mean to say that someone means to purposely steal an idea outright, I mean it more in the sense that instead of finding who they are, they take a whole concept, don't alter it to suit their individuality, and then wonder why they feel uncomfortable.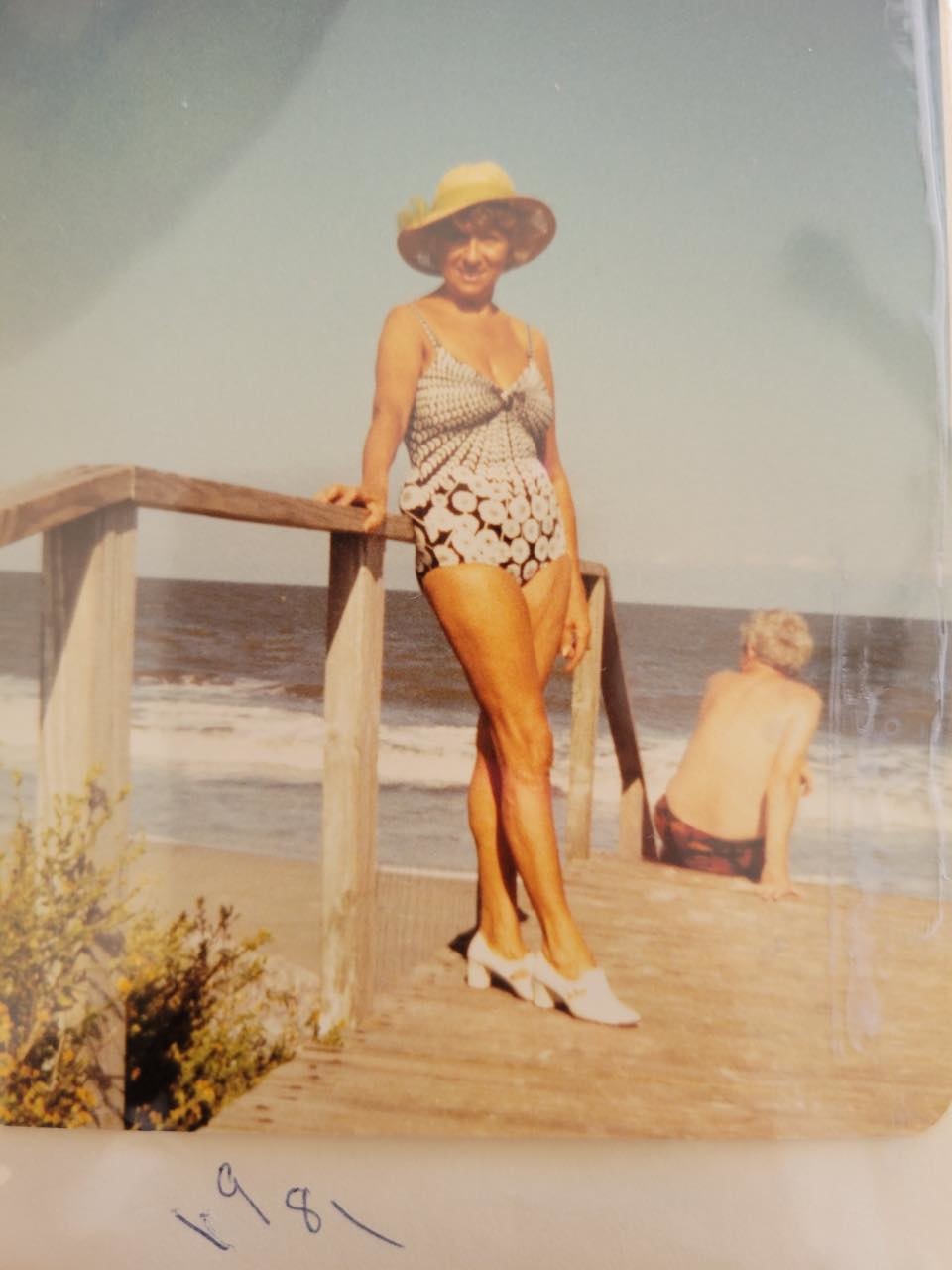 My grandmother is in her 60s in this photo
"I don't have any rules, because I would be breaking them. In order to find your own personal style, you have to be true to yourself, not be a trend follower and be ready to take a few risks"
- Iris Apfel Written By Katja Noschis Delaloye 
Apfel created a personal style. According to her, finding one's personal style is hard work as you need to be brave, try various styles and see how people react to them and decide how important their reaction is to you. I bring up Apfel because I like using time proven examples. There are so many young, stylish and creative people. However, I want to encourage playfulness and exploration in your self expression beyond youth. 
Many of us once threw on clashing outfits to be princesses, unicorns, firefighters, and other silly identities. We were blissfully unaware that a lion's suit in August was impractical. But how fun! The simple joy of play. We forget about this play as we get older. Instead of embracing the joy of expression, we get caught up by perceived imperfections. It's okay to strive for a better you, as long as you recognize that you are still a person worthy of love right now. 
So many of us think that focusing on our appearance is self absorbed or superficial, I can tell you this, when people feel good about themselves they feel good physically and mentally. You must value yourself to be healthy and when you value yourself others value you as well. You are the only one who can recognize your true value. If you do not others will place a value on you that is less generous or useful for their own means. That isn't a negative statement about the world, but it is an observation I've seen proven continuously. 
I strive to be the best version of myself. Whenever the good Lord decides to take me I hope to be happily playing dress up. I don't care if your style is active wear or runway, just put it together, be the best version of you. You do not need a ton of money to look cute. I love thrifting and find some amazing pieces at the thrift store which I incorporate into my wardrobe or wear them solely. My daughter will even cut her existing clothes to keep the parts she likes as she gets bored of the existing style.
There are key elements to looking fabulous, and they are easy as 1,2,3,4
1. Wear your colors - so uplifting and creates natural vibrancy
2. Make sure it fits - don't focus on hiding flaws
3. Feel good in what you are wearing 
4. Try new things - go into stores you never go to
5. Try on styles you would never try
Other pointers 
1. I always shop color first.
2. I am super picky when it comes to fit. My mantra to myself is does it fit/feel good.
If not, it's a waste of money and time.
3. If I don't feel good in my clothing I am completely unproductive all day and grouchy.
4. I purposely go into all kinds of stores. I am not sporty and absolutely not woodsy,
I will even go into tractor supply type stores. You never, never, never know what you will find.
From children's, teens, tractor, whatever, pop in shop. I absolutely hate to shop for a purpose,
shopping is something I like to do for fun. Grazing style, I do not like to have to shop.
If I find something cool YAY, if not that's ok too.
5. I prefer my wardrobe to be procured, and fluid not instantaneous.
Adding to my basics and enjoying the process. 
I challenge you all to try something new and please share with me! Be the cutest you, you can be! 
To find out more about how color can work for you check out this blog