Right now it may be tempting to go super casual in that video conferencing, but we want to put forward an unpleasant truth... Now is THE most important time to care about how you look (at least from the waist up). So ditch the high heels, get comfy, and we'll explain why.
Office work is going to change, with it will change office dynamics. How you look and behave in that little rectangle is super important. No longer can you make a strong physical impression, you are making a pure pixel impression. This means not only how YOU look matters but what is around you matters too. Maybe you are already noticing this? Well good! You are ahead. 
Do your makeup while looking at the preview of how you will ultimately appear on camera. Of course, you can have a mirror there too, but you need to see it to believe it. Think of it as looking through someone else's eyes. It is a rare chance to completely control how you come off. 
Use natural lighting if possible. Natural light looks friendlier and more flattering. If this isn't possible play around with the light you do have to work with. Remember you get to see how they will see you.
Be mindful of your frame. If you don't know your colors, neutral grey is a very serious but easy go to that comes across as professional without turning you into a floating head. You definitely don't want to blend into your background (maybe don't sit right against a wall). Black or colors that don't flatter you can make you look sickly. That's why knowing your best colors is really important. If you want to know the best colors for your makeup, clothing, and interiors check out our DIY color palette tools. 
With that said... What you are wearing matters. Certain colors come across different ways (see INTENTIONS below). Just make sure you are checking out yourself through other's eyes and you can't go wrong.
Your colors put your best foot forward, whether that's at work, cultivating relationships with clients, or out and about in the world. With all the time you have on your hands and the DIY drapes there really is no reason why you can't be walked through the process of discovering your personal palette! And we are here for you with any video consultation help you may need.
Much love, stay healthy, and put your best face forward,
Elea Xylem
ABOUT ebhues
ebhues™ is the only personal color analysis system rooted in science, art, makeup, and created with the individual in mind. Though Personal Color Analysis is not new, ebhues™ was created out of a need to give each person THEIR own best colors – defying the standard industry practice of lumping groups of people together to share a standard array of "best" colors.
There was a time when we did utilize this more standard version of Personal Color Analysis at the elea blake® studio, but we (like many) found the color groupings were limiting and didn't provide a scientific framework for understanding color and the "why" behind what looks good.
ebhues™ is about you as an individual. It's about embracing the uniqueness that is part of the human experience. Find you color DNA today with our online drapes 
THE NITTY GRITTY
So what is ebhues™ exactly and how does it work? There are a lot of technical explanations for what the ebhues™ color system is, but basically, it boils down to this: You know how there are days where you do your same morning routine but everyone is telling you how good you look?
Well, that has to do with the color you are wearing and how it is interacting with your skin tone. And, what we have done is create a scientific way to find that color in each hue/color family. This means that your skin will look its best and you'll look your freshest each and every day.
Check out this video to see more about how this works:
We have two paths for finding the best colors in each hue for you:
Personal Color Analysis draping with Darin Wright or one of our analysts
THE PURPOSE OF 

ebhues™

Does the idea of ebhues™ intrigue you but you aren't sure what purpose it serves? Here's what it can actually DO for you:
Eliminate clothing that makes you look sallow or washed-out.
Save you from wasting money on makeup that doesn't do you justice.
Empower you to select colors in your wardrobe that will make you stand out!
Give you all your best colors so you can cut down on shopping time (and only put on outfits that make you look stunning).
Guide you in picking out colors for your home/office that will have you looking fabulous and make you feel at ease. 
Help you make a positive first impression.
INTENTIONS
You may have seen that word floating around. Intentions are what we call the 10 different color families. And when you do your ebhues™ draping (in-person or otherwise) we will help you discover your best color within each "house" or Intention of color!
The Intentions and the colors they house are:
Power (our red hue). It is called Power in our system because red is most often equated with power, prowess, and boldness. 
Strength (our yellow-red hue). Strength in the ebhues™ system is the infusion of yellow, an energy color, with the color red, a power color. It creates a bold and decisive orange. Strength colors will often be in what many systems term "Spring" or "Autumn" colors as they are pure warm colors, however, it is the hue that makes up almost 98% of the world's skin tone colors. So, even within the Strength (or orange) space, those who need cool tones still have flattering colors to discover.
Creativity (our purple hue). This color is often equated with wealth or in this case, a wealth of imagination and unique approaches to common problems. 
Ambition (our purple-red hue). It is the marriage between Power and Creativity, which offers a path to achieving one's goal that others may miss. 
Energy (our yellow hue). It is a vibrant warm color with movement and reminds us of the greatest creation of energy, the sun. 
Determination (our yellow-green hue). It is the combination of yellow's Energy and green, a life color. The duo form an alliance that creates ivy crawling forth from urban sprawl and brings to mind the great Jurassic Park motto, "Life finds a way". 
Trust (our blue hue). It is the color that most calms and placates an individual. In business, it can be used in clothing or room color choices to evoke a sense of confidence and reassurance. 
Life (our green hue). It is the color of growth and renewal. 
Balance (our blue-green hue). It is the delicate balance between Life and Trust. 
Intuition (our purple-blue hue). It is the blend of Trust and the purple of Creativity to form a trust between the individual and their base instinct. 
THE GENUS
Like in biology, each Intention's Family in our system is further broken down. These Genus groupings show you what to expect from that color in terms of wearability. 
THE CODES
If you're still reading, you've now got a better idea of how our system tailors individual Intentions / color families instead of sticking you in one "season" with one general group of colors. So now, if you're curious about what all those ebhues™ codes you see on our products stand for, it's easy: These codes are designed to make your shopping experience easier after you've found your best colors. They tell us not just how cool or warm a specific color is, but also the depth (or lack of) in the color, the chroma, etcetera.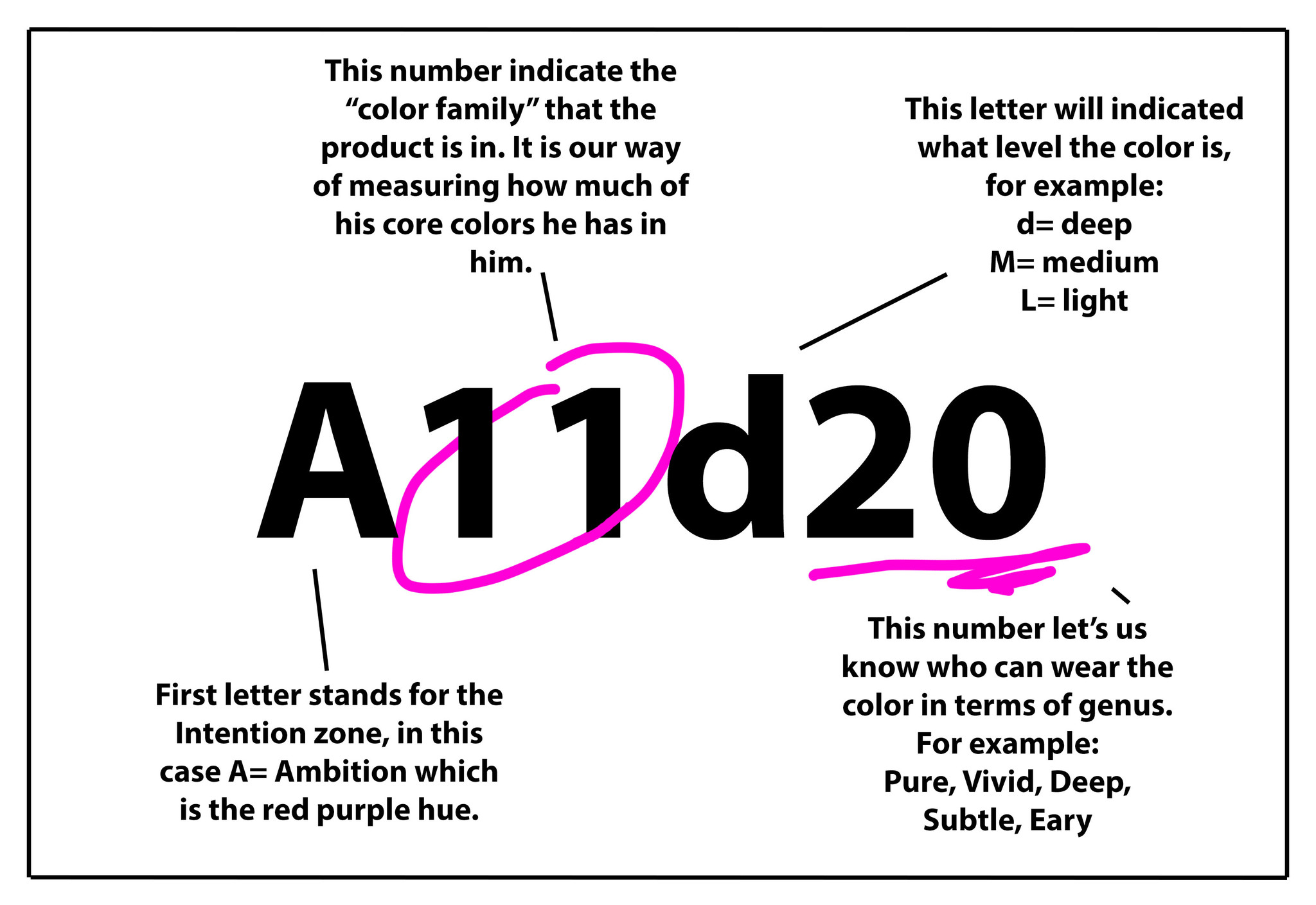 So using this example, you have fallen in love with the color Kitschy, whose code is A11d2o. You love the color so much, you want to see what other colors are similar to and/or related to him. This is where you would take the first 3 digits of the code, A11 and insert them into the search bar on our website. Then, when you search, it will filter to show you only the A11 colors, and you can see + read more about them!
You can also go deeper with the code (but don't worry, you don't have to). For example, say you think Kitschy is the best lipstick you have ever purchased. You can then type in "A11d2o", or the code found on each product under the ebhues™ Color Reference, into the search bar and receive colors that are matched to that product in different forms.
You can do this to find a blush that matches your lipstick if you want shopping swatches to find this color in clothing/nail color/paint/ furniture options, or to discover SO much more! Due to the newer nature of this option, you may not find some codes have more options on our website than others. If this is the case you can always request a color or you can look in the more generalized zone of A11 and use the Genus groupings to filter your results.
We could continue to talk about color for SO much longer, but we'd rather answer your questions first!
Interested in unlocking your world of color? Give us a call at 423-266-6222 or send us a message!