We have talked a lot about finding your best color and doing everything by hue, but what in the world does that even mean! As visual learners ourselves we wanted to show you what a hue family looks like and how it all works. At elea blake we have classified each color category into a scientific notation that accounts for how much of a certain undertone a color has and then further denotes it based on the amount of saturation, depth, and vibrance.
Above you can see what some colors in the color family Power 11 look like. As you can see they range in depth, brightness, and saturation but they all share the same mixture of base colors and have a strong red undertone. When we drape you, you are told which hue zones are your best in each color as well as receive specific codes to utilize to find your makeup colors. For instance, even if Power 11 is your best hue zone, you may need more depth to your colors and therefore colors such as Light Hearted, which is a vibrant color, might be too bright for you while colors like Positive, Metropolitan, Believing, and E-Commerce Me will be your absolute best buddies.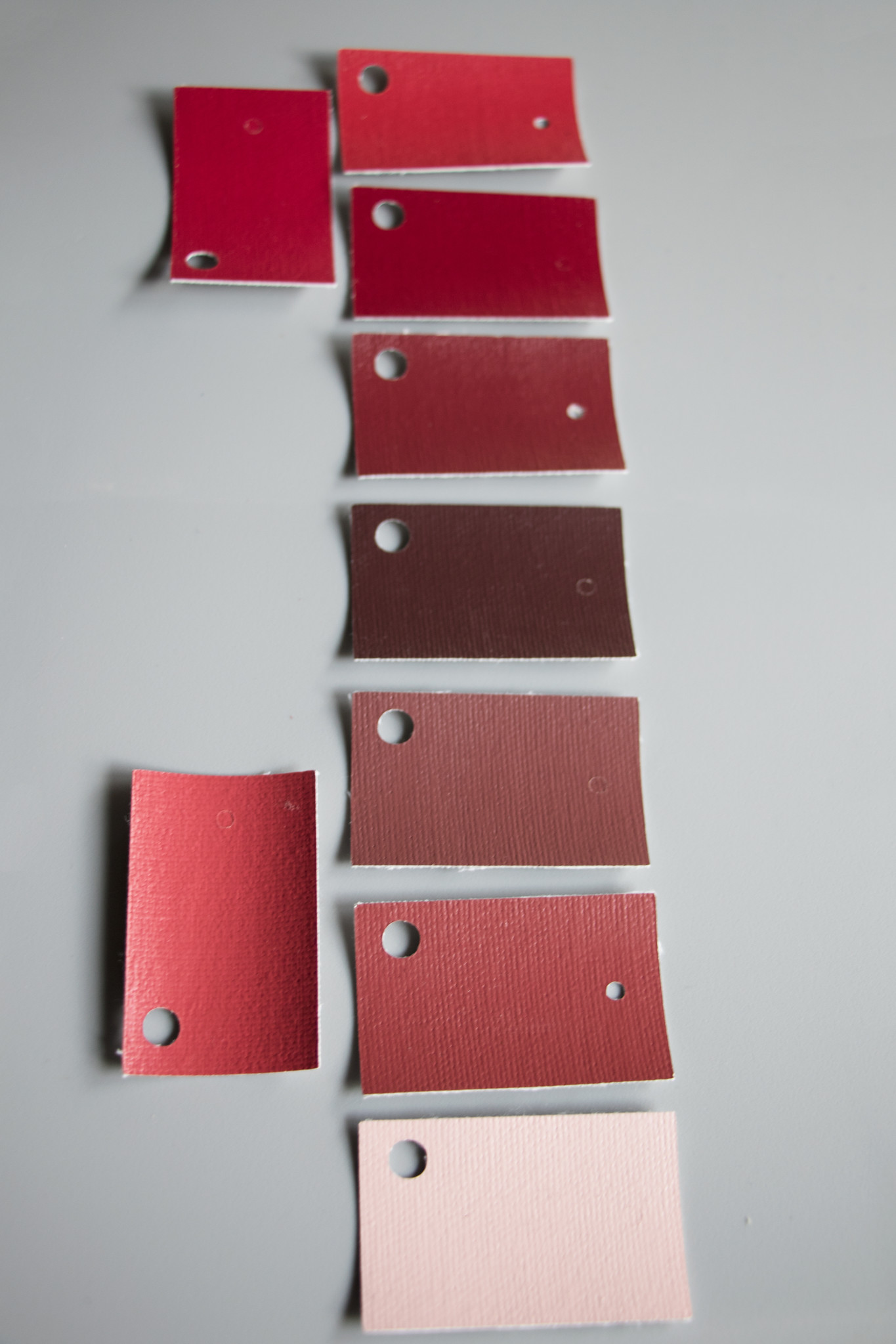 Here is the same thing but with our ebhues swatches. The swatches show a range of colors, but again, they are all in the same color family, that of Power 11! As you can see, there is movement within each hue in regards to whether the color is muted or vivid/ dark or light/ saturated or more neutral toned. This is where the Genus that many of our online shoppers have noticed in the descriptions and filters on our website come in. When you are draped you are not given a Genus, rather you are given the specific CODES for each color that is your best. However, online you don't have the benefit of having your specific codes chosen in each hue which is why we utilize the Genus. In general, people tend to stay in the same zone for their colors, especially in terms of lipsticks. For instance, if you have found that your best colors are usually Deep colors or have a "d" after the hue zone code [ex. P11″d"2p] you will stay in that zone for the majority of your makeup.
Regardless, we hope that clarifies our system a little in terms of the Intentions and our stubborn avoidance of classifying people in terms of "Summer", "Winter", "Autumn", and "Spring". As you see, we do not go by the Family or Season but rather the specific hue zones and their scientific notations for each hue. It makes the system more versatile to the individual while allowing for an incredible amount of options in terms of colors, with absolutely no effort on the half of the individual to locate those colors in their makeup as we do all the work for you. Let us know if you have any questions!