At some point in your life you have stood in the grocery store line and flipped through a magazine to see someone talk about face shapes. Maybe your hairstylist brought it up after 'tsk tsking' you about a look you want, or maybe you took an online quiz to study the look, wherever you may have encountered the almighty face shape- it doesn't matter. The point is face shape is unavoidable and you should learn what your shape is.
Why?
The all important question of the universe! Why should you care?
Knowing your face shape can help you go from looking dull and one-dimensional to Super Woman… well minus all the cool powers and leotard (well maybe not the leotard). Any way, if you know your face shape you can accentuate the right features with makeup and have the right haircut that compliments your face and highlights your beauty. 
There are nine major face groups; oblong, rectangular, circle, square, inverted triangle, heart-shaped, diamond, triangle, oval.
Heart-Shaped and Inverted Triangle: This face shape is typically narrow at the chin and wide at the forehead. Your chin is very emphasized so you want to draw focus towards the other parts of your face. Use sheer pinks and red to draw attention to the frame of your chin and cheeks and create a more 'feminine' look.
Hairstyles: Recommended hairstyles include chin length bobs to make the jaw area appear wider and longer hairstyles that do not have height at the crown or get slicked back.
Round: This face shape has the same width cheeks and forehead, making your cheeks appear more prominent. To add definition to your cheekbones, put bronzer underneath the cheekbones (suck in your cheeks to see your cheekbones more clearly), and put blush on the top of the bone.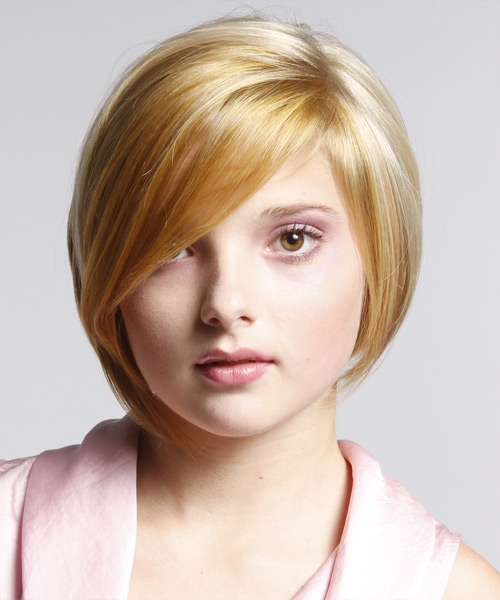 Hairstyles: Recommended hairstyles include off center parts, sweptback styles, or styles with height at the crown to balance out the width of your face. 
Avoid very short, cropped hairstyles or styles with fullness at the sides.
Square: Your face is as wide as it is long but with a more angular shape than a round face. Accentuate your face with mascara and soft blush colors like corals. Keep your eyes soft with light colored eyeshadows and alluring deep colors.
Hairstyles:
Recommended hairstyles include short- to medium-length hairstyles, wavy or rounded outline styles, bangs, and hairstyles that add volume to the top. 
Avoid long straight hairstyles.
Oval: If your face is longer than it is wide, you have an oval face shape. Makeup should be heavier on the eyes and cheeks. Try adding angles to your cheeks by using a deep bronzer underneath your cheekbones.
Hairstyles: Anything. If you have an oval face you are a horrible fabulous person who can try any look you want. [Statement product of jealous envy]
Oblong/Rectangular: If your forehead and lower face are the same shape, with very long sides, you have an oblong face shape. Angular eyeliner and deep blush colors are recommended for this face shape.
Hairstyles: Short to medium in length is recommended, layers that will chop up the length of the face.
Avoid very long hairstyles that will make your face look even longer.
Diamond/Triangle: If your face is widest at the cheekbones and you have a narrow forehead and jawline of approximately equal widths, than you have a diamond shape. If you have a wider forehead than your jawline and chin then you have a triangle. These two shapes are similar in that you want to accentuate your amazing cheekbones. Use light colored blush colors that are vibrant, and add interest to your lips with a deep harmonious lipstick. To find your harmonious lip color to your blush, consult the ebhues code and either click on it or search the first 4 characters. For example if your blush is a P14m2v search P14m. Triangle face shapes should add brazen eyeliner looks to their makeup.
Hairstyles: True diamond face shapes are flexible with hairstyles, just make sure that if you choose a short hairstyle to leave weight at the nape of your neck. Triangle face shapes are similar but should look to add more volume to the top of the head. 
Avoid hiding your cheekbones with chin-length layers.
Commonalities
The thing all these face shapes have in common is that they look best wearing your natural color. To find your natural colors check out this blog. If you need help finding your face shape, please sign up for Project: You! As much as we would love to help everyone for free, we are a small family-owned business. Due to the mountain of requests, this is the only way we know how to address everyone's needs and keep our beautiful clients happy.