There are so many reasons why you could be unhappy with your bronzer application (or other people are unhappy with it). Now normally we don't care what other people think, but when it comes to your face you want to walk around advertising your lovely personality not necessarily looking like a swatch ad. Here are a few reasons why your bronzer could be looking... off.
First off, let me be clear… There is absolutely a difference between bronzer and contour colors. That doesn't mean that bronzers can't help 'contour' your face, even blush can do that.
Bronzer - Sun kissed, tan
Contour - creating light and shadow on face
Dark contour colors aim for a darker, equally neutralized color as your skin. Not too grey or too neutralized though because it can give a sickly look. You need to know your skin undertone to nail this. I have already written about skin undertone, and I want to focus on bronzer in this post, so lets move on.
Bronzer is bronzey. Not all skin undertones play as well with bronzer, this is especially true for warmer skin tones, and even more true for warm skin tones who need cool reds. Definitely read about skin undertones or you're going to be super confused. I know some reading this are already like WHAT DO YOU MEAN COOL UNDERTONES. I wrote that right. Cool undertones in skin are closer to red. Bronze is a cool orange. All skin is orange. Orange that is close to red looks bronzey, orange that is close to yellow and therefore warm is gold. Gold as a bronzer is fun and pretty, but really only works if you have high saturation in your skin. 
While it may seem like cool skin undertones would have the same apply, they don't. No matter what shade your skin is, you can totally rock a straight outta the jar color if you have cool skin undertones. I don't know why this is. You can also rock 'skin toned' bronzers no problem if your best red is really warm, so if you have warm skin but have a warm red you are in luck. I'm thinking more like P41 or P43 for this. There are beautiful P14, P11, and P28 bronzers, but they look more blushy. Some bronzers you can kind of cheat to be contour colors but you wouldn't want to use bronzers in the P11, P14, P28 undertones to do that (even though they make excellent bronzers). The best skin tones for skin toned bronzers (orange) are S45 and S21. The cool side of orange lends itself perfectly to bronzers, from the richest shades to the fairest, because like I've already mentioned your skin already leans to the 'bronze' side. People in the S412 and S417 undertones have more gold in their skin. S412 has an easier go and we have a new bronzer called GILDED for you folks (named by a S412 client). 
You can see Blake in the below picture rocking December Love as a bronzer. She has extremely warm S417 skin and very cool reds P31 and deep P14s. This color creates definition but doesn't look like tan skin necessarily.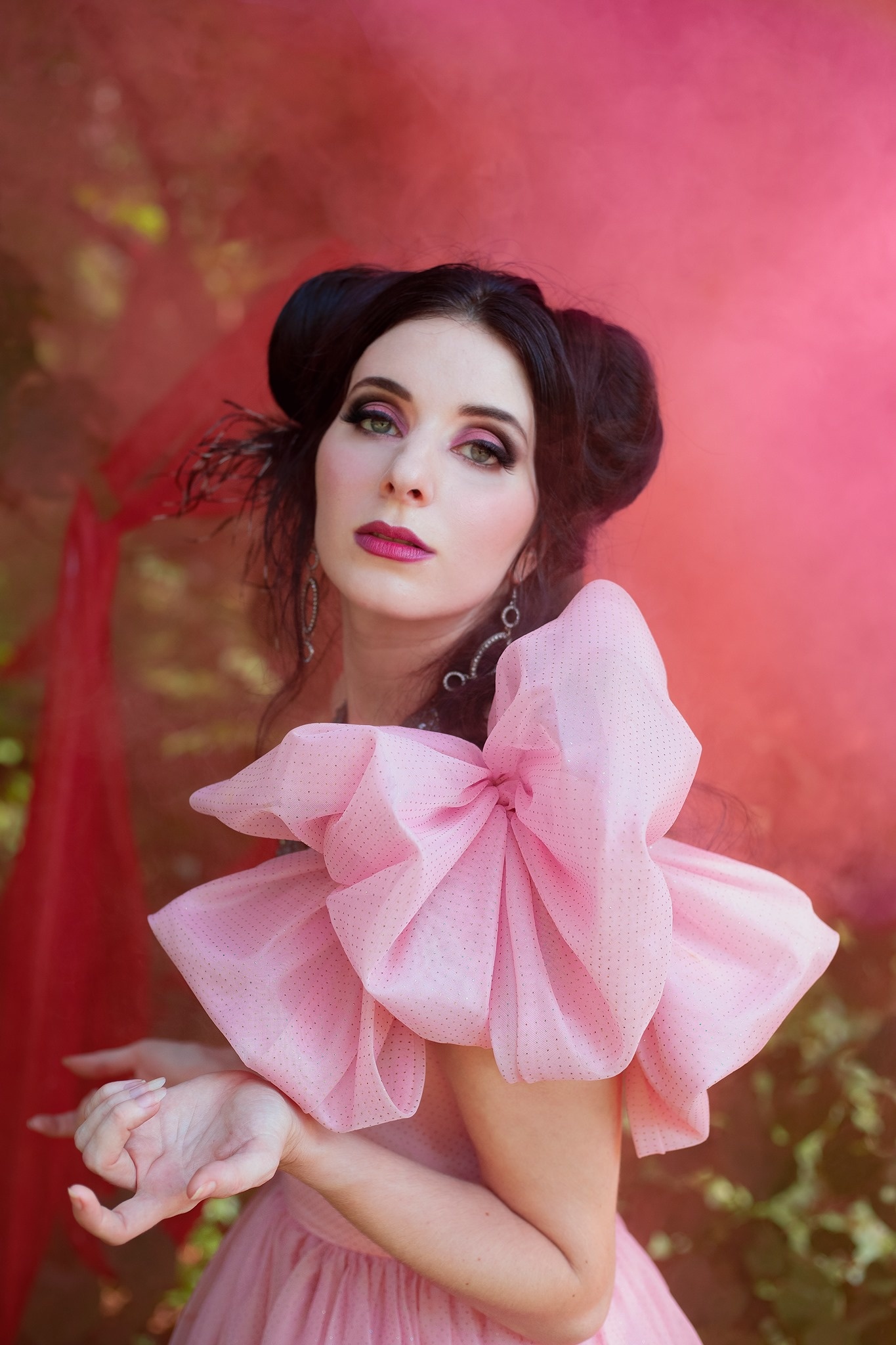 The above is really technical and confusing, especially if you don't know your ebhues codes, so let's move on to APPLICATION
Despite some people being able to pull off bronzers more readily, the application can really hurt if not done right. There are so many amazing videos that are making the rounds via Reels right now that say X to going crazy in the hollow of your cheek to your lip and encourage a light application at the wider areas below the cheekbone, blending up. This will almost always be the way you apply bronzer unless you have a petite face. If your face is petite, you may want to almost apply like blush but slightly lower.
CRUCIAL INFO DROP
Basically, everyone can benefit from also applying blush. I see blush left out in the application process when doing bronzer and I always want to send a message like, "just a pop would be so cute". I don't because I don't offer unsolicited makeup advice, but I want to. 
Why blush? Blush does what bronzer does, it gives the face a glow and replicates what 'warm' skin looks like. Blush does have a cute look and can help define your face for that youthful pop. What are some times you may not want to apply blush????
....
Okay in seriousness, I wouldn't apply blush if I was going for a severe look. Think Morticia Addams. That's the only instance I can think of. Skipping blush will give you a gaunt look. Which is a stylistic choice for sure, so if that's what you are going for, you do you. I'm just giving my advice. 
To learn more about applications for different face shapes, check out this blog we wrote forever ago. 
Check out our bronzers here